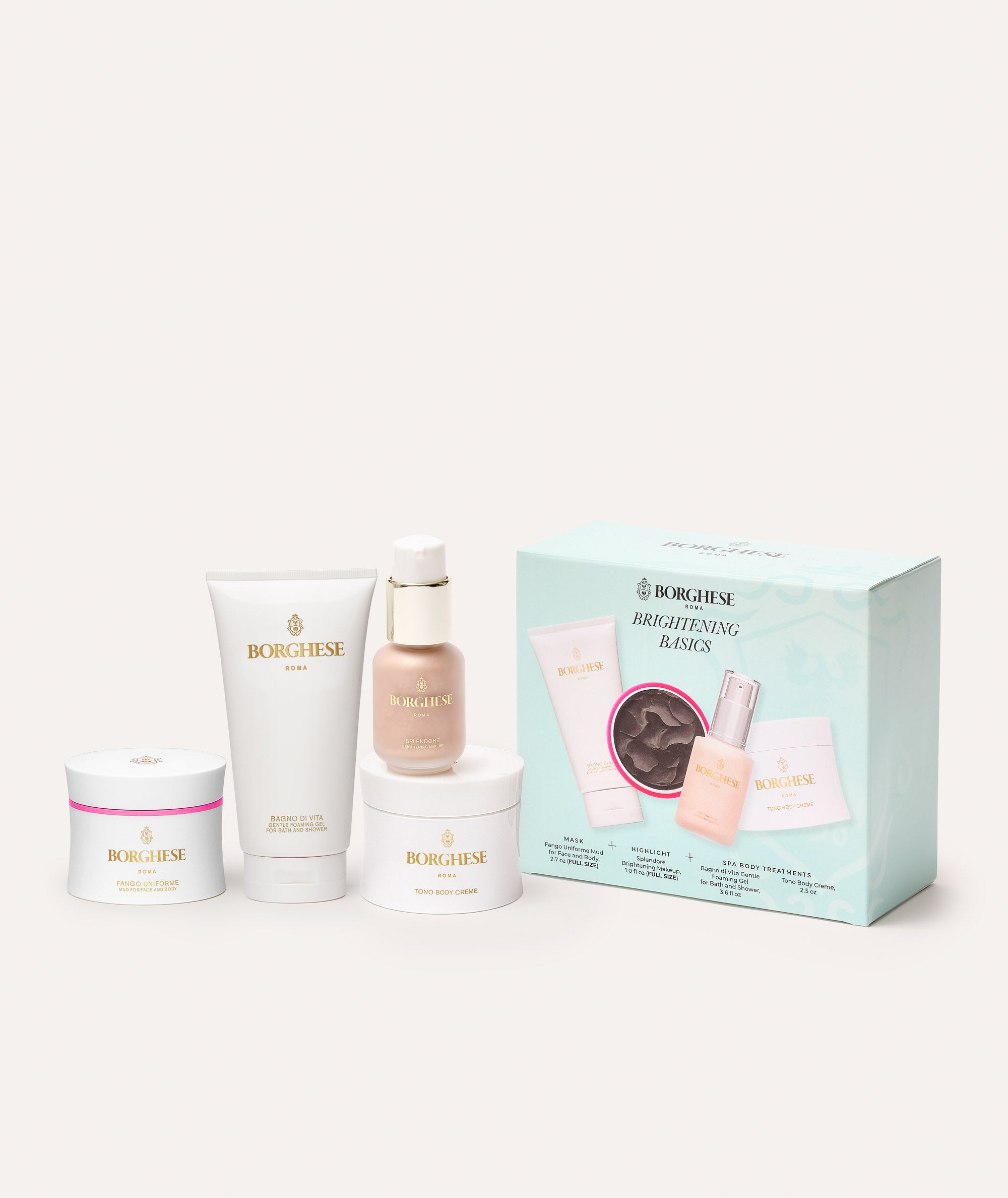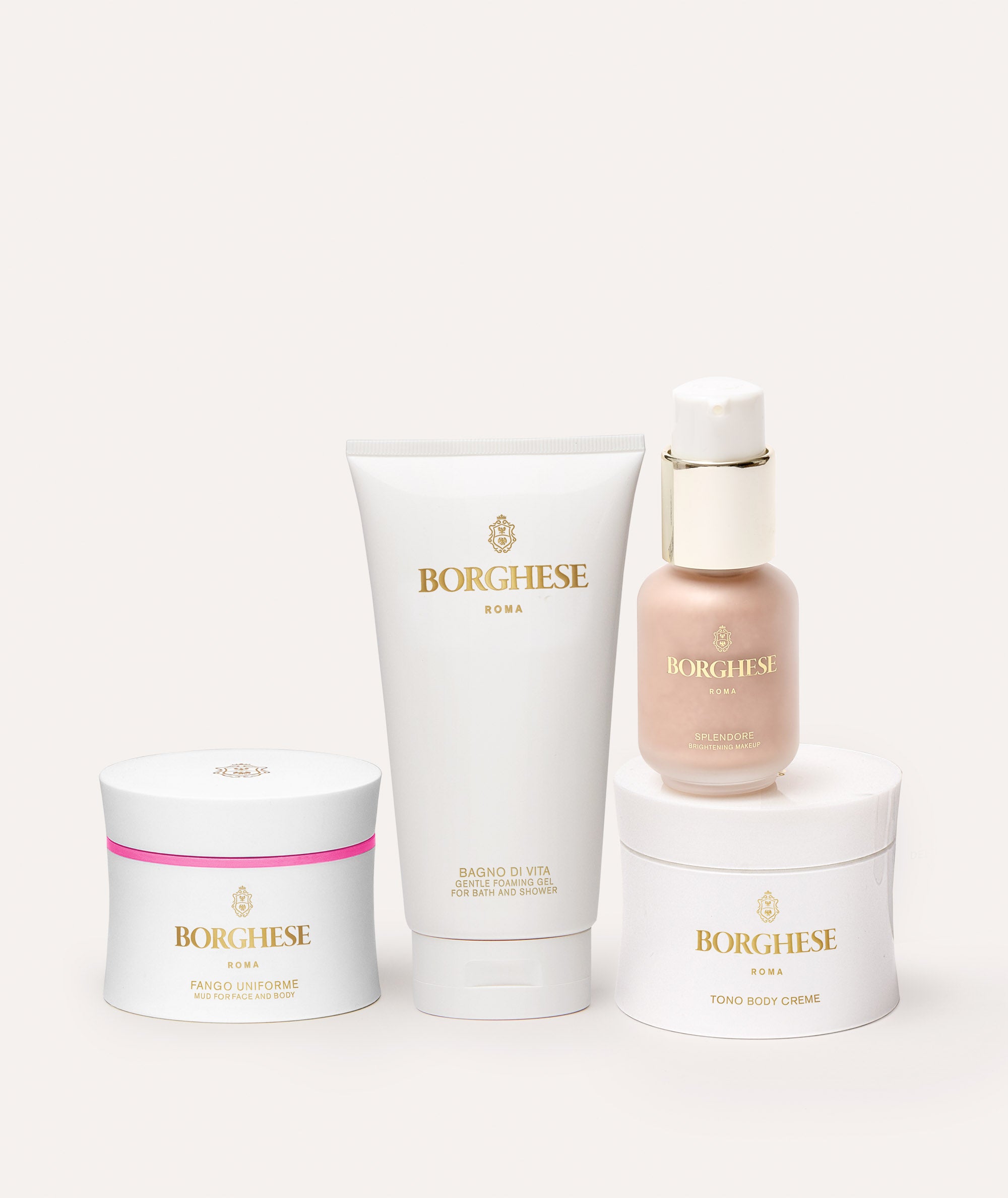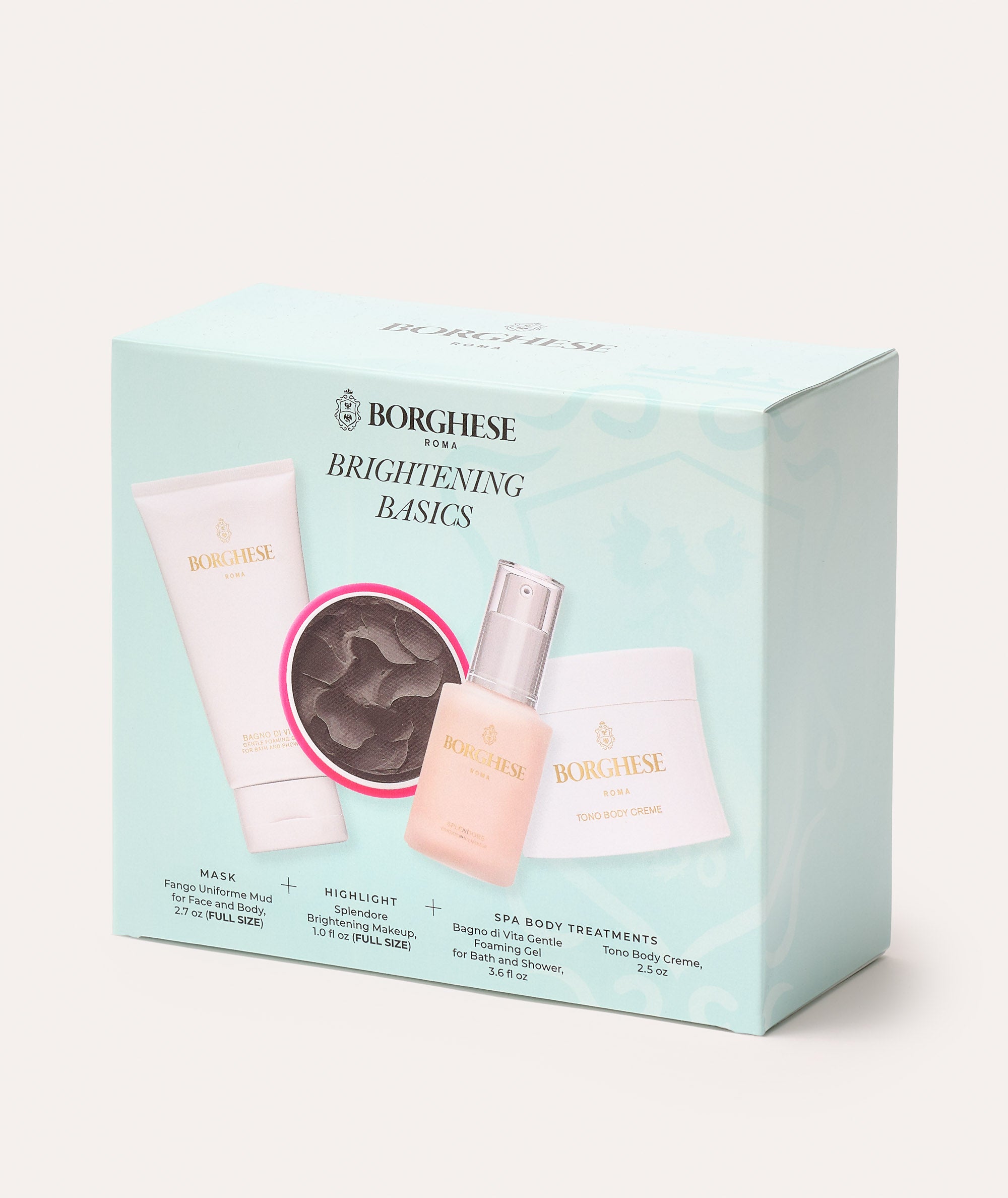 4-Piece Brightening Basics Gift Set
Description
GLOW-ON-THE-GO. Body care cult-classics, shower gel and body creme, create an aromatherapy experience with skin smoothing and soothing results. Limited edition, Fango Uniforme mud mask, extends the brightening benefits with Charcoal and Coffee Extract. The finishing touch, our multi-use highlighter to enhance your glow!
Benefits
Fango Uniforme Mud Mask for Face and Body: Helps diminish dullness and promote a more even, luminous skin tone. Visibly purifies pores and improves the appearance of elasticity and texture.
Splendore Brightening Makeup: Multi-tasking liquid luminizer can be used alone as a highlighter, mixed with moisturizer for a beautiful glow or added to foundation for a dewy, more luminous finish.
Bagno di Vita Gentle Foaming Gel for Bath and Shower: A revitalizing foaming gel helps I improve skin texture while the signature botanical ingredients soothe your senses.
Tono Body Creme: An extra-rich treatment to help banish dry skin and improve tone + texture with a combination of aromatherapeutic botanical extracts.
Set Includes:
Fango Uniforme Mud For Face and Body, 2.7 oz
Splendore Brightening Makeup (Full Size), 1 oz
Bagno di Vita Gentle Foaming Gel for Bath and Shower, 3.6 oz
Tono Body Creme, 2.5 oz
Gift Box
How To
Fango Uniforme Mud Mask for Face and Body: Apply a generous layer to clean skin – face, neck and/or body. Avoid lip and eye area. Leave on for 2 to 5 minutes. Rinse off thoroughly using a warm, wet sponge or washcloth. Use once or twice a week or as needed.
Splendore Brightening Makeup: For high shimmer: Apply directly after foundation. For subtle shimmer: Mix with foundation and apply to face. For a sheer look: Mix with moisturizer and apply to face.
Bagno di Vita Gentle Foaming Gel for Bath and Shower: Use daily in your bath or shower. Apply all over the body with hands, a sponge or washcloth—or pump a generous amount under running tap water to create a relaxing bubble bath.
Tono Body Creme: Smooth over entire body after every bath or shower and whenever skin feels dry.
4-Piece Brightening Basics Gift Set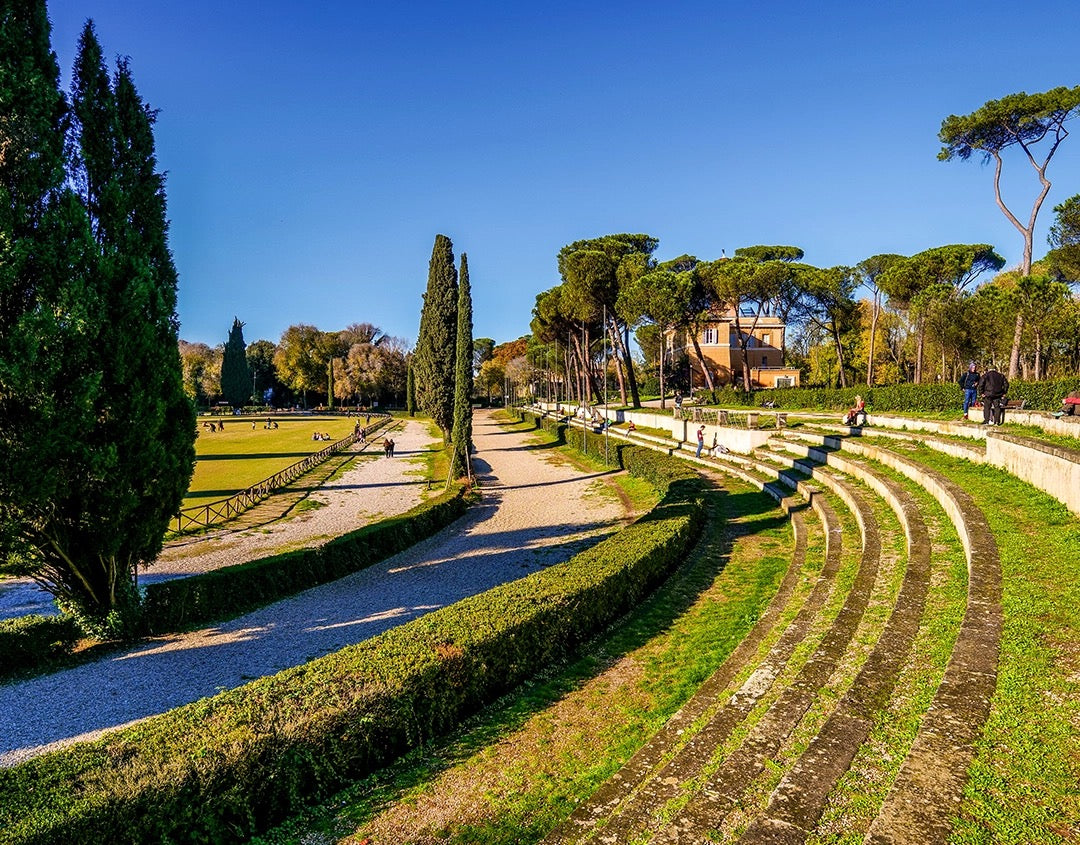 Deeply Rooted in Italian Tradition
Our history has been built on success stories passed from one generation to the next.
Effective treatments wrapped in indulgent experiences, driven by modern-day science.
#BorgheseBestSelf

Earn Points
Earn 1 point for every dollar spent

People Really Like Us
Over 20 Million Masks Sold

Subscribe & Save
Never go without your favorite product again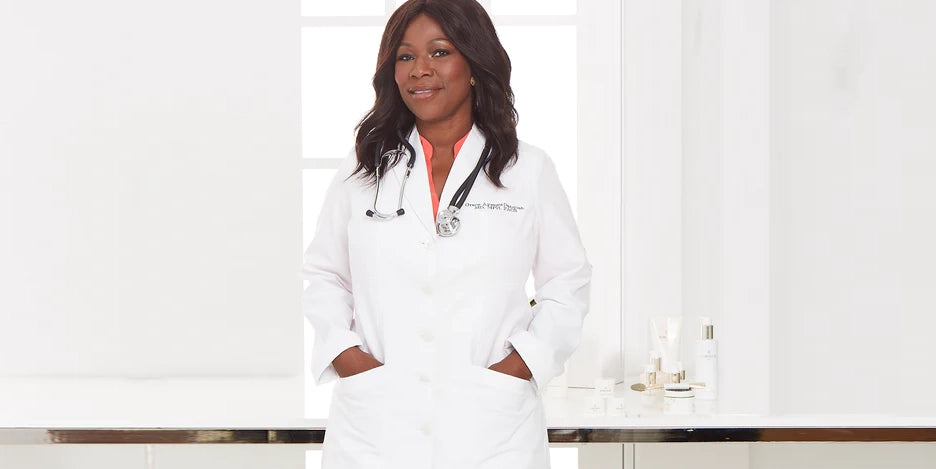 "The best prescription for healthy skin is a daily nutrient-rich skincare routine"
— Dr. Grace Ayensu-Danquah
American Board Certified Skin Surgeon